" I'm hungry"
I don't know what put here.
Appearance
commonly she have two ponytails and his hair is green his eyes are red, she have 21 years.
In the lives his hair is curled and his eyes are yellow.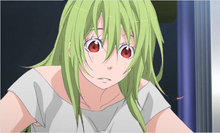 Personality
she was a sure, competitive and caring person, but if he is angry can hate you.
Relationships
Amelie Anderson. his mother
Oliver Anderson. his father
Trivia
She smells like cinnamon and brown sugar.
Her birthday is June 7..
His favorite food was the enchiladas.
She has started to sing when she have 14
Song
This video is from XxxZoexxX